Coming soon to Coeur d'Alene: The Cascade Team Real Estate
Posted by The Cascade Team Real Estate on Wednesday, January 17th, 2018 at 11:56am
We're thrilled to be opening a new office in the wonderful city of Coeur d'Alene!
Located at 410 E Sherman Suite 200 Coeur d'Alene Idaho 83814, our new office will allow us to hit the ground running in this exciting new market.
When it comes to Coeur d'Alene's future, everything points in one direction: up.
The city population will go up. New, taller buildings will be built up. The demand for housing, and housing prices overall, will go up.
Coeur d'Alene is the fastest-growing metropolitan area in the fastest-growing state in the nation, U.S. Census Bureau data show. That metro area, the 11th fastest-growing area in the country, includes Coeur d'Alene, but also the rest of Kootenai County — Post Falls, Hayden, Rathdrum, Athol.
The city of Coeur d'Alene, currently with a population of about 51,000, is projected to reach 81,000 people by 2035, Anderson says. Post Falls, nearer to the Washington border, is growing even faster and at this rate would surpass Coeur d'Alene's population sometime between 2025 and 2027.
The growth is largely driven by people fleeing California or other Western states in favor of North Idaho's relatively low cost of living, outdoor lifestyle and, yes, the conservative politics. But along with the influx of growth arises more questions for politicians, developers and city planners, all bracing for what's to come.
"Hopefully," says Idaho state Rep. Vito Barbieri (R-Dalton Gardens), "we're not gonna see any high rises."
From July 2016 to July 2017, Idaho grew its population by 2.2 percent — more than any other state in the country, according to the U.S. Census Bureau. That represents an increase of about 37,000 people. Other states saw more of an increase in the number of people — Washington, for example, increased its population by 124,809 — but no state saw more rapid growth than Idaho.
Geographically, urban areas saw the most growth. In 2016, three of Idaho's metro areas ranked in the top 25 fastest-growing in the country, including Coeur d'Alene and Boise. And it's not a matter of births outpacing deaths. It's people, usually people 55 and older, moving to Idaho from places like California.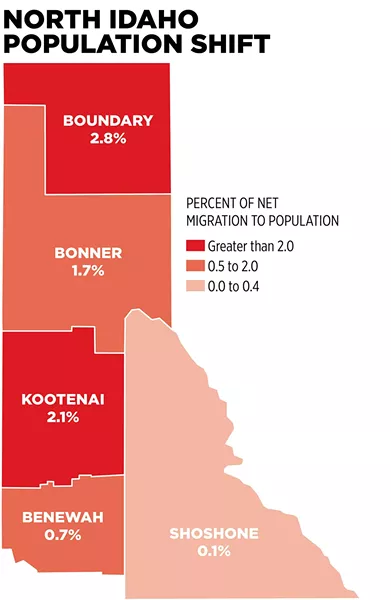 From 2015 to 2016, Kootenai County saw a net migration — the difference of people moving in and out of an area — of nearly 3,200 residents. |
Barbieri says people want to get away from where they were living due to economic or political factors.
"People are recognizing, if you want to prepare against a progressive liberal agenda, then there are some places that may have a better chance of holding it off than others," Barbieri says.
All this growth promises to change the economy. Just as urban areas in Idaho are seeing population growth, they're also seeing most of the employment growth, says Sam Wolkenhauer, a North Idaho labor economist for the Idaho Department of Labor.
With the increase in baby boomers, health care jobs will become more in demand, he says. Construction jobs will open up, as will manufacturing jobs and service-industry jobs, he says.
Housing costs, too, will rise. Numbers from the Coeur d'Alene Realtors Association already show that the median home price rose 12 percent from November 2016 to November 2017, reaching $248,755. For people born and raised in North Idaho, that's a lot. For people coming from out of town? It's not bad at all.
Credit: Inlander: In North Idaho, leaders brace for rapid population growth
<p><a title="Real Estate News" href="/blog/">The Cascade Team Real Estate</a></p> <p><a href="/blog/" target="_blank"><img src="/uploads/agent-1/Small Logo.jpg" alt="" width="200" height="200" /></a></p> <p>Full Service Real Estate with 1% Listing Fees!!</p>