Distressed Inventory Shortage to Blame for Listings Drought
Let's take a brief follow-up look at new listings. When we checked in two weeks into the new year, new listings in the Seattle area were down 25% from 2012. The data from this post is largely pulled out of a larger-scale analysis I did at work last week.
After six weeks, the picture looks better, with new listings down just 1.7% from last year, but the full story is a bit complicated: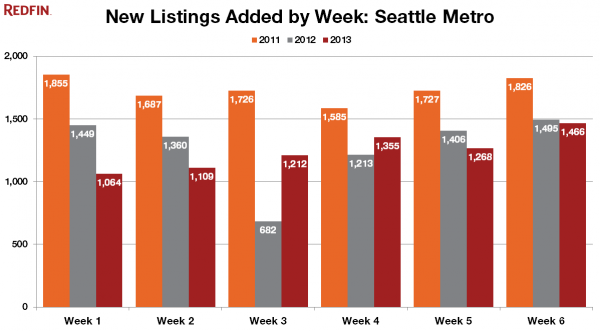 So what's the deal with that huge drop-off in week 3 last year? If you recall, that was when the region was slammed with a massive ice storm that basically shut everything down for a week.
But what's really interesting is what you see when you split out new listings by their distressed status: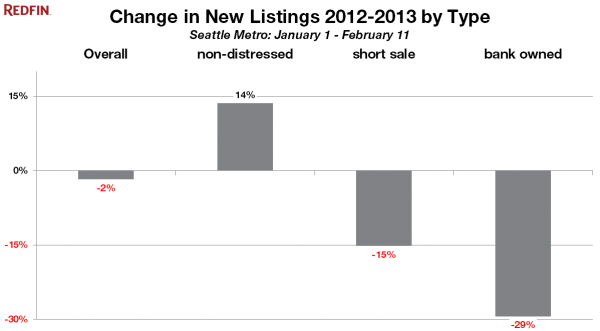 Non-distressed listings are up 14%, while short sale and bank-owned listings are both down double digits. It would seem that the driving force behind the listing shortage this year is that the market has improved enough to dramatically cut distressed inventory, but not enough to lure in equity sellers.
As you can see, over the past few weeks we've been catching up with 2012′s pace of new listings, but we've still got quite a ways to go to get back to 2011, which was a more normal year. Here's hoping that more sellers decide to jump into the market, bringing supply and demand back in balance.
Source:
seattlebubble.com
By The Tim on February 20, 2013