Eastside Home Price Charts
Posted by Laura A. Hodgson on Wednesday, January 24th, 2018 at 11:18am
Eastside Home Price Charts For The Last 3 Years... WOW!
Local Real Estate Listings & Community Info
Everything you need to know about the Eastside real estate market is right here. Be sure to check out the Eastside home for sale stats and the local listings available below. The numbers shown include both condos and single family homes, so you'll get a better idea of what the market is doing. Located on the east side of Lake Washington, the Seattle Eastside encompasses everything from Bothell to Newcastle and Bellevue to North Bend.
Eastside Community & School Info
Below are the numbers for Issaquah, Sammamish, Bellevue and Snoqualmie. Each has seen steady double digit price growth for the past 3 years. Sammamish and Bellevue residents have seen approximately a $200,000 increase in value just since 2015 and it looks like there is no end in site as inventory continues to shrink.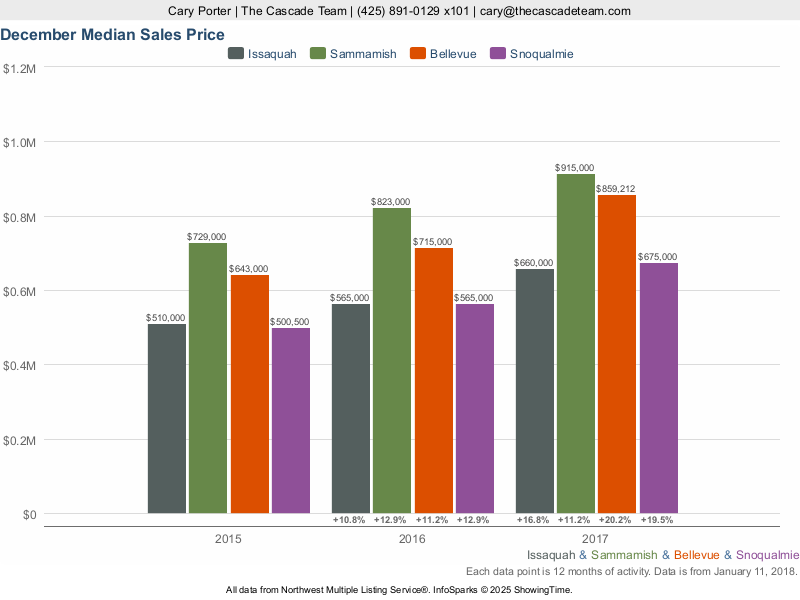 Most of these same cities are seeing double digit declines in inventory. Snoqualmie for example is down 27.3% compared to just 12 months ago. So while people are building equity at record rates, they are still holding off on selling which as more and more people move to the greater Seattle area is continuing to push prices and feed into bidding wars!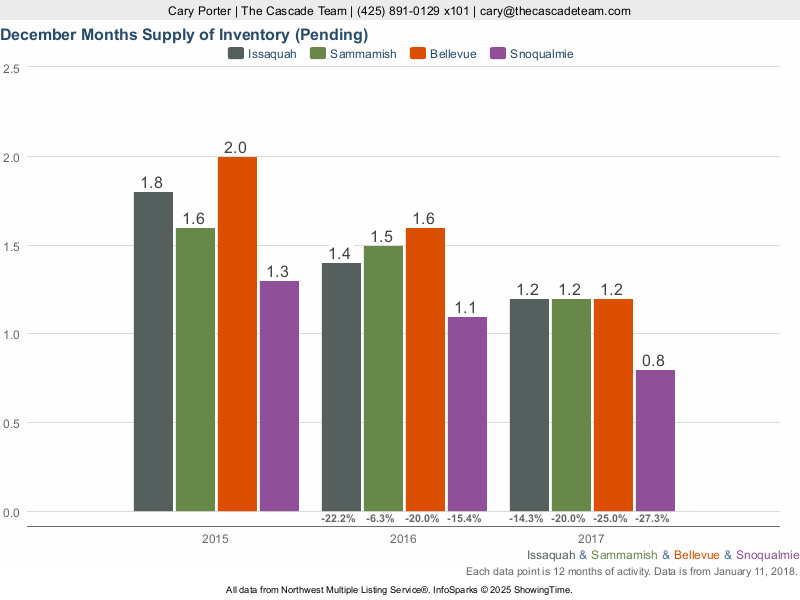 Multiple offers are here to stay as inventory levels continue to decline due to the lack of new construction and the disappearance of short sales and foreclosures. Buyers and investors are coming out in droves buying up everything with a For Sale sign. And in response to this, smart real estate agents have brushed up on their multi-offer strategies to give their buyers the edge they need to win. Sometimes it is not just about the offer amount, and it is the real estate agents job to figure out what that edge really is.
Winning at a multiple offer presentation begins with understanding how you can put your very best foot forward. There are many ways to make an offer look attractive and not all sellers care only about the price; many of them care about time and convenience. A strong agent tries to find all the possible pain points for the seller and then crafts an offer with their buyers that address those points.
You can learn detailed tips on "Winning" in multiple offer situations HERE
The Issaquah Highlands in particular has seen a huge price spike. In just the past 12 months prices in The Issaquah Highlands have increased over 29% while inventory is now less than half of what it was just two years ago.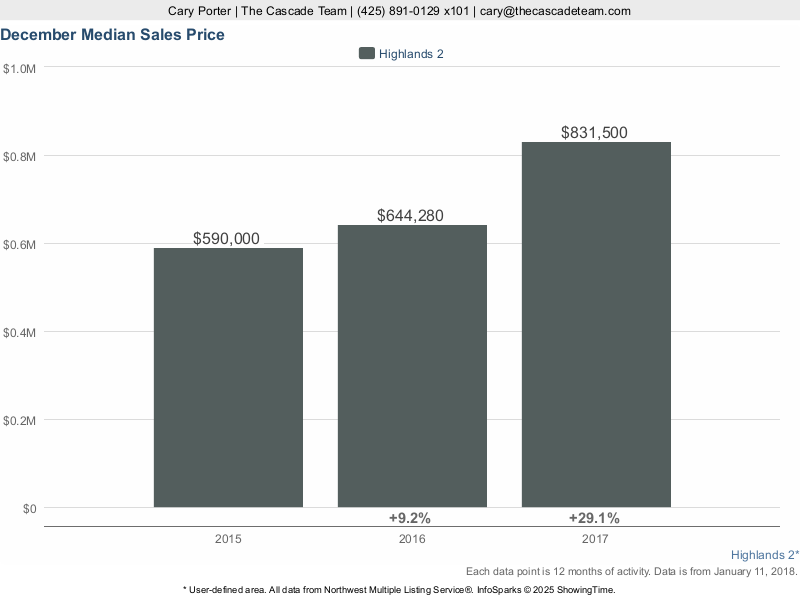 So, when will Seattle Area's run as the hottest market end?
Probably not anytime soon, given the gap between our area and the rest of the country. Among the area's strengths are population growth that's twice the national average; a diverse economy with a young, educated workforce; abundant capital; and top rankings for walkability and outdoor activities. We benefit from having twice the U.S. average — 12 percent — working in STEM occupations.
Find Out What Your Home Is Worth
The Cascade Team Real Estate is a company like no other because of the marketing, service and home seller savings we provide. We understand that in today's real estate & home selling environment, we need to provide a high level of real estate service and wide spread marketing of the home for sale, utilize technology to keep our home seller clients in the communication loop and provide added value to both buyers and home sellers in the real estate transaction. The effective use of technology tools allows our local Seattle & San Diego real estate agents to focus more of their time on servicing our clients and finding buyers for your home, all the while providing the most comprehensive real estate marketing program available. In the end, you get the perfect combination of online real estate tools and personal service in the home selling process.