SuperBowl City Real Estate Showdown! (Denver VS Charlotte)
Posted by Cary W Porter on Wednesday, February 3rd, 2016 at 8:47am
Whether you're pounding for the Panthers, repping Bronco's country or just in it for the ads, Super Bowl 50 is going to be one for the ages. And, there's more to it than what's happening on the field in Santa Clara on Sunday. There are the fans back home to consider. Pride and honor are on the line — along with some serious bragging rights!
While the attention is focused on Levi's Stadium, we're looking at the how Broncos' and Panthers' hometowns — Denver and Charlotte — stack up in a local real estate head-to-head. You decide which home field comes out on top.
The hottest housing market vs. steady gainer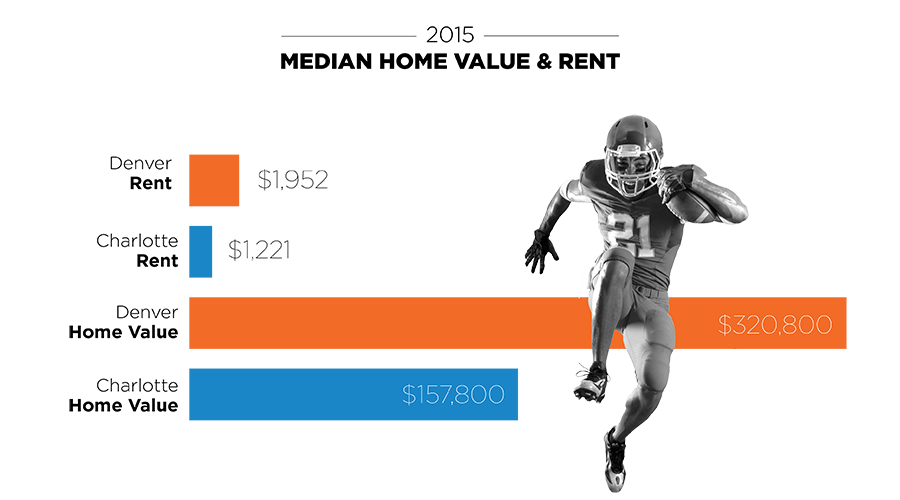 Denver was ranked this year's hottest real estate market due to its white-hot mix of job growth, income growth and low unemployment. As more people move to the Mile High City and home values only projected to go up, Denver has also garnered a reputation for being increasingly unaffordable. Renters shell out 34.3 percent of their monthly income on rent, well over the 30 percent rule of thumb for affordability. The Cascade Team has three offices in Colorado. You can search Denver area homes HERE.
Charlotte, on the other hand, remains one of the affordable markets in the country, with renters spending approximately 27 percent of their monthly income on rent.
Charlotte doesn't get the headlines Denver does, but the Queen City has quietly established itself as one of the country's most livable markets. Because Charlotte has largely flown under the radar, homes in the area are still a terrific bargain compared to pricier places like Denver or larger, coastal markets.
Both the Charlotte and Denver metros are expected to continue their growth trajectories in 2016.
How much for a football weekend in Santa Clara?
Football fans descending on Santa Clara are about to whoop it up for the big game. They also are ready to ante up an entire month's rent (or more!) to stay the weekend. If you stay in Santa Clara, expect to pay up to $2,000 per night — or $4,000 for the weekend. The median monthly rent in the city is $3,438. Might as well stay the month.
Sources: