Subscribe to Hailey Miller blog
· Expert insights are painting a bright future for housing when the economy bounces back – and it will.
· We may be facing challenging economic times today, but the housing market is poised to help the economy recover, not drag it down.
· Connect with me, to make sure you're informed and ready when it's time to make your move.
With the Western Washington housing market adjusting to new ways of operating residential real estate activity around Western Washington reflected expected declines during April with the impact of the coronavirus pandemic taking its toll. However, while a new report from Northwest Multiple Listing Service shows year-over-year (YOY) drops system-wide in new listings, pending sales and closed sales, it also shows that prices have increased nearly 6.4%.
"With the first full month of post-COVID-19 data in hand, it's clear the Puget Sound housing market has been hit but not knocked out," stated Windermere Chief Economist Matthew Gardener. "The normally active spring market is significantly slower than normal due to COVID-19, but it has not come to a halt," he observed, adding, "In my opinion, it is responding to the current circumstances exactly as expected.
The Northwest MLS report for April shows area-wide inventory fell nearly 21% from a year ago, dropping from 12,955 listings to 10,282. A comparison of the 23 counties in the report shows only four counties with YOY increases (Jefferson at 0.9%, Whatcom at nearly 6%, Douglas at 13.8% and Lewis at 17.7%), while three counties had shrinkages of around 30% or more (King at -29.6%, Clallam at -32.9% and Island at -39.2%).
Past analysis has shown that the COVID-19 pandemic and associated lockdowns will cause a significant dip in real estate activity. The latest U.S market data shines a light on what the dip and recovery will look like — a checkmark shape, with an immediate drop, three to four weeks at the bottom and a slow recovery period.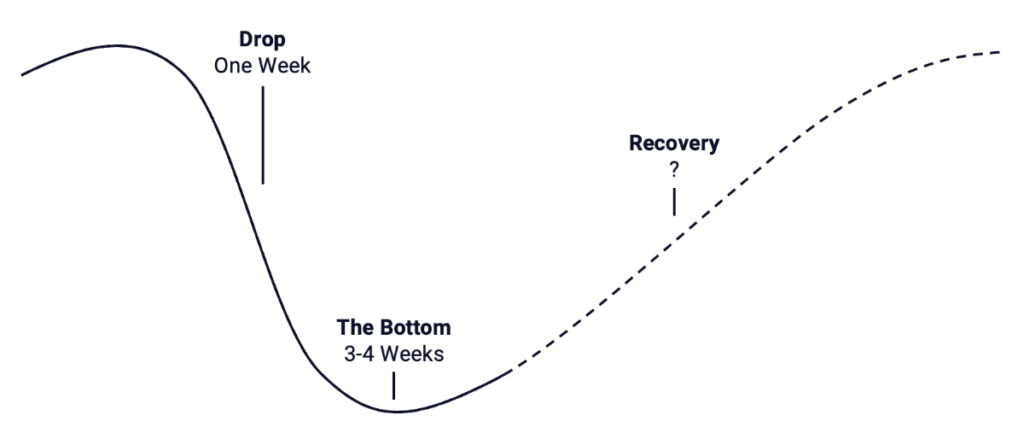 The effects of the dip are clearest in early-hit markets like Seattle in King County. It took approximately one week to hit the bottom, with another two weeks at the bottom before a rebound began. As expected, new listings are down 50 percent for the month compared to 2019, with a slow, 20 percent recovery each week.
The volume of new listings added during April was off 34.7% compared to the same month a year ago. Brokers added 7,641 new listings last month, down from both March when 10,291 new listings were added, and April 2019 when brokers added 11,697 new listings.
Despite the slower activity, the months of supply improved only slightly, rising from the March figure of 1.4 months to 1.75 months of inventory at the end of April.
J. Lennox Scott, chairman and CEO of John L. Scott Real Estate, described the market as "virtually sold out everywhere locally in the more affordable and mid-price ranges." Commenting on the local market, he said, "We are seeing buyer demand coming forward. With historically low interest rates, the local market needs additional listings to meet pent-up demand from the backlog of buyers," he stated.
"We continue to see a shortage of inventory, along with multiple offers on newly listed homes, and we still have a backlog of buyers who line up (virtually) to view new listings," reported Frank Wilson, branch managing broker at Kitsap regional manager at John L. Scott Real Estate. "With exceptionally low interest rates, there is no change in sight," he suggested.
In comparing April to March in the tri-county area (King, Pierce and Snohomish counties), economist Gardner noted the total number of active listings rose (up 14,8%), but new listings dropped (down 25.5%), which he said suggests sellers may be waiting until the shelter-in-place order is over. In the same area, home prices were essentially flat, which Gardner said, "This tells me that sellers are having realistic expectations about value and buyers, hoping for deep discounts, are not finding them."
In King County, prices rose 4% from a year ago, from $625,000 to $650,000. Snohomish County prices were up nearly 6% and Pierce County joined Kitsap with a double-digit gain; prices there increased from $355,000 to $397,750 for a 12% gain.
System-wide, prices were up about 6.4%, rising from the year-ago figure of $424,950 to last month's figure of $452,030. Year-to-date prices are up nearly 9.3% compared to twelve months ago.
"With peripheral areas still showing price increases higher than the Seattle area core, April's figures highlight the trend of migration to outer suburban areas, along freeway corridors," suggested James Young, director at the Washington Center for Real Estate Research (WCRER). He also believes the figures illustrate "a continued preference for lower density areas given the likely persistence of distancing measures in the future. The virus has refocused many potential buyers, especially for those owning high-density properties in Seattle and elsewhere, on more space and less density. It makes social distancing easier!"
Covid-19 Real Estate Market Predictions
Young expects the trend of households moving to outer counties will likely accelerate in the coming weeks. "Older households in Seattle and other urban centers will be attracted to lower density areas because it is easier to maintain social distance while possibly gaining more space at a lower price point. As long as older householders in urban areas are able to sell, other counties will continue to see increased prices," he stated.
Other representatives from Northwest MLS commented on new "Safe Showing and Selling practices.
"Buyers are relying more and more on technology and tools to allow for virtual open houses and viewings. Social distancing, face masks, showings by appointment only and only two people in a home at a time with one of them being the broker are the new norm," stated Wilson. Like WCRER's Young, he said he could imagine homeowners wanting to change their living conditions to accommodate for more room or more outdoor space. "This could well cause a shift in what buyers are looking for in the future."
Grady also observed upticks in activity and optimism. In tracking their company numbers since March 29, he said they've averaged about a 10% increase in production (new listings, new transactions, and closed sales) in each subsequent week. He expects activity will continue to increase throughout May and June, which he says, "speaks to a market that is slowly adjusting to new ways of operating."
"Optimism is rising," Grady reported. "We have seen a drastic increase in views of virtual tours." He also believes consumers are gaining confidence around safety measures for touring homes and as brokers become more adept at hosting live stream open houses. "Buyers are utilizing virtual technology, electronic signatures, and remote online notary processes for closing. All in all, we're getting through this together," he proclaimed, adding, "We are truly fortunate to live in a region that has navigated this crisis as adeptly as possible."
Posted by Hailey Miller on